Move over essential oils, there's a new player in town: organic ozone oils. Even better, ozonated oils mixed with essential oils. I've spent the last couple of months trying everything from hemp oil to avocado oil. But today let's talk skin care.
I've spent most of my life just applying thick cover up and green primer to hide the redness from rosacea in my skin. What cures rosacea, at least for me, has been the combination of an exfoliating brush (I like the one Olay makes) and using ozoneated oil. M
y skin has gotten so much better! The redness finally gone and it's a lot smoother and softer. That's what got me hooked. There are a lot of options to choose from, so here are my recommendations for the best ozone skin care.
Which Ozone Oil Should I Use on My Skin?
For Daytime Use/Primer: organic jojoba oil with organic vanilla. I know the idea of smearing oil on your skin as a primer seems counter intuitive. A lot of us are trying to get rid of the excess oil on our skin, and no one wants to feel greasy. This vanilla oil is surprisingly light. Apply it thinly before putting on your makeup. After a couple of minutes it absorbs really well. I like the vanilla sent for this oil because vanilla blends well with most perfumes and the scents of products you might be using in your morning routine. As a bonus you can also use this ozonated oil as an organic, chemical free deodorant. The only downside to this oil is that it cannot hold as much ozone as the others, but the smell is very light and
pleasant.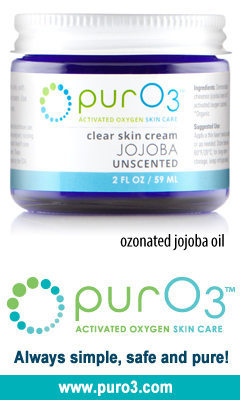 For Massage Oil:
organic coconut oil with organic lavender essential oil. More and more professional massage therapist are switching to using coconut oil when they work. Adding the lavender sent will make your massage extra relaxing and pleasant.
For an Overnight Mask
: ozonated olive oil or ozonated cocontut oil with lavender essential oil. The lavender scent will help you to relax and sleep. I did notice that the olive oil has distinct scent to it. It isn't really bad but it isn't great either. It almost smells rancid, even though it still works great. If you are more sensitive to the smell I would use the coconut instead, but if you want a stronger oil, use olive.
For Fungus, Athletes Foot, Eczema Etc.:
ozone olive oil with lemongrass. I think the lemongrass works the best to cover the smell of the olive oil, which is the strongest oil for high skin absorption. I found it as best to cover the infected place and have the oil soak in overnight.
If you have sensitive skin, you may want to try using the oil without any essential oil scents at at all. The activated oxygen in the oils themselves is enough to do a lot of good. I really love these products, they have made such a difference in my skin care and have so many uses. If you have any questions or comments about ozone oils please comment below.